Skip to Main Content
It looks like you're using Internet Explorer 11 or older. This website works best with modern browsers such as the latest versions of Chrome, Firefox, Safari, and Edge. If you continue with this browser, you may see unexpected results.
Concepts in science : mathematics units 1-4
Produced by David Chamberlain 1987

Written by Robert Dexter

Mesh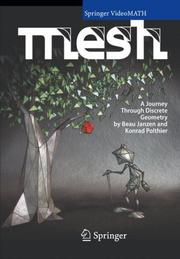 MESH is a mathematical video on polyhedral meshes and their role in geometry, numerics and computer graphics. The film is completely computer-generated using the latest technology and spans the range from ancient Greek mathematics to the area of geometric modeling of today. MESH has already won several science awards worldwide.